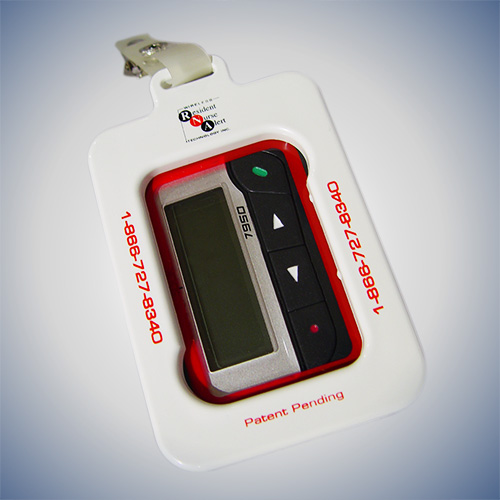 Pocket Pager Protector Program
What benefits can Cimtel Inc. and Wireless Resident Nurse Alert Technology Inc. ("Wireless RNA") exclusive patented pocket pager protector offer you and your home?
Cimtel Inc. and Wireless RNA are excited to announce the newest innovation to our Pocket Pager Protector Program ("P4PPA"). Pocket pager protectors can now be tracked using the latest in asset tracking technology. This technology will prevent pagers from leaving the building and save your home hundreds of dollars in replacement costs!
The 7950 pocket pager is the pager of choice for many health care providers and is compatible with all nurse call systems. This pager is versatile and simple to operate with the one touch button function.
Cimtel Inc. and Wireless RNA pocket pager protector kit, includes the 7950 pager, asset tag, tamper resistant pocket pager protector, clear vinyl gasket and secure clip. A sturdy patented metal tool to open the protector is also included with your order. Protectors are available In a wide variety of colors. We offer a 5 year warranty* on all parts.
For further information, pricing and *terms and conditions on the P4PPA, please contact Cimtel Inc. and Wireless RNA.